Rope Halter Sizing
A great fitting Rope Halter is essential for effective communication with your horse! Not only will proper Rope Halter fit aid in the safety and function of your rope halter, it will also look best when properly fitted for your horse. We offer "standard" sizes as well as custom sizing for your Rope Halters. This includes not only our training rope halters but our fancy rope halters with trim as well. The size chart below will help you determine the best fit for your equine partner.

Note: Measurements are distances between knots. Not from the center of the knots.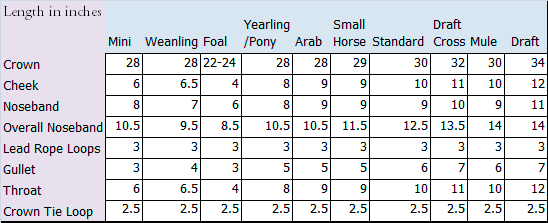 A lot of horses are easily able to fit into one of our standard sizes. If you find that your horse does not fall into any of these categories or you simply want a perfect custom fit, you can email us at info@horseropeconnection.com and we will instruct you on how to measure further for a custom fit.